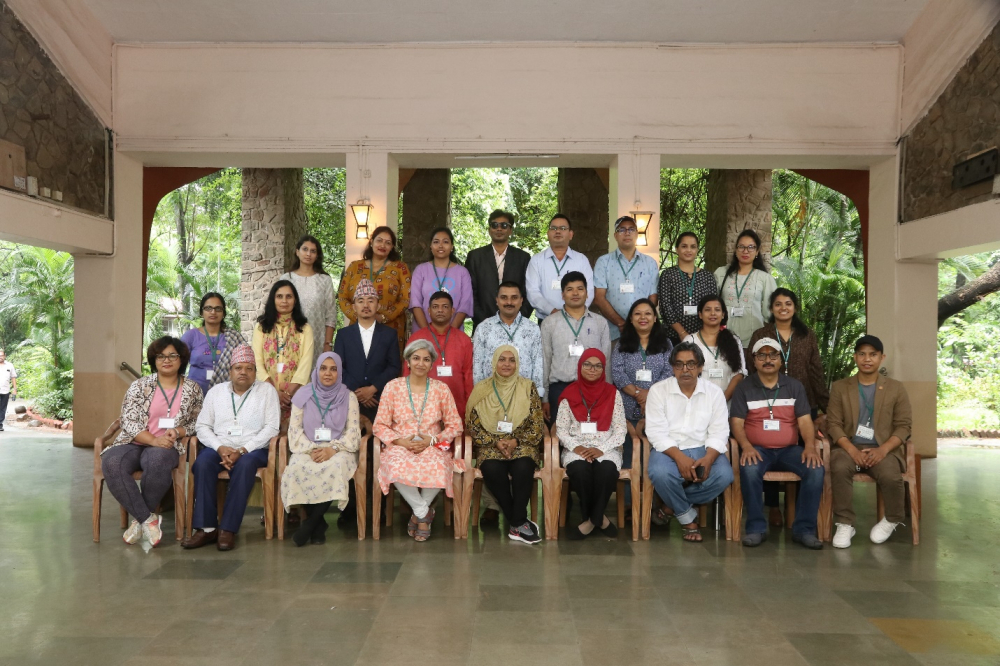 Ten critical days of learning
I am a South Asian Teacher Educator (SATE) Fellow in the project Multimodal Approach to Teacher Professional Development by the consortium members Villa College, Maldives as lead, Center of Excellence, Tata Institute of social Sciences, India as knowledge partner and Swedish Committee for Afghanistan. This research is supported to address the gaps in the professional development of teacher educators and teachers, particularly in response to the requirement of evolving educational reforms.
Though the program aims to develop a capacities of education for leading distance teaching and learning experience by mentoring a community of teachers, the educators as fellow are undergoing training in Basics of Distance Teaching and Learning, Mentoring and Action Research and are expected to participate in workshops on well being of Teacher Educator and Teachers, Social inclusion and Gender and designing case studies.
Fellows of this project are getting an opportunity to attend different workshops via online course works and webinars. Last time, fellows got an opportunity to attend a ten days (27th June to 6th July) physical workshop in TISS where Fellows from Nepal and Maldives were participants in the face to face workshop whereas fellows from Afghanistan attended online.
An important focus of that training was to develop understanding and engage in activities to design action research by working with teachers. The program was designed to equip fellows including reflection, process of authentic /meaningful learning by creating ICT artifacts, mentoring in their work setting and collaboration in practice.
Besides these, we discussed on different topics like issues and challenges on TPD, designing collaborative models of professional development, inclusive pedagogy, exploration of CLIx resources, developing school synergy, thematic engagement in groups, focus group discussion, landscape mapping study report presentation, techniques of analyzing classroom video, meeting with academic mentors, insights from fellow presentations classroom case studies, analyzing evidence of learning, preparing and presentation of Action research proposal were the key takeaways from these sessions during workshop.
We obtained more skills, knowledge and pedagogy for our professional life. In addition, we got an opportunity to learn about the educational policies, practices and implementation process in the classroom of South Asian Countries. Fun and interactive activities like; know your partner, Culture sharing activities made the workshop more fruitful and engaging. As an institutional visit, fellows met and interacted with the children in TELTA(Technology Enabled Learning and Teaching for Adolescent Learners for 21st century skills ) where students of class eight were engaging in their projects regarding calculation of BMI. They measured our height, weight and created spreadsheets to suggest appropriate diet plans for each of the fellows. We were really motivated by their authentic learning.
Besides this, fellows visited Gateway School in Mumbai. The School is dedicated to empowering children with disabilities. Every person has the potential to learn and grow. The school was providing greater access in helping students develop their knowledge, sense of understanding, creativity, skill and attitude required for them to grow. Observing the school helped us to identify learning disabilities and activities for them.
As a tour, fellows got an opportunity to visit different places in Mumbai. They enjoyed more than expected.
Places that fellows visited were:
Gateway of India CST
Asiatic library
Horniman Circle
Fort (Flora fountain)
Chhatrapati Shivaji Maharaj Vastu Sangrahalaya
Rajabai Clock Tower
Oval Maidan
Marin Drive
Mani Bhavan
I am very much thankful to TISS family Mumbai, Villa College Maldives, respected facilitators, academic mentors, field mentors and fellows from Nepal, Maldives and Afghanistan. We are overwhelmed by the hospitality provided by the TISS guest house members. They regularly provided healthy and wealthy foods in time. We were really excited, impressed and motivated by the TISS family for their dedication towards their institute and for fellows. They were so praiseworthy, energetic, knowledgeable, active, loving and caring. Being part of such a wonderful learning experience was one of the best moments in my life. I hope that this workshop will play an important role for the teaching profession as well as my personal professional development.